News: prestashop-plus.eu has become prestaplay.com.
All existing customer accounts and data were moved here. You are welcome to join.
ePlatby Raiffeisenbank for PrestaShop (payment gateway)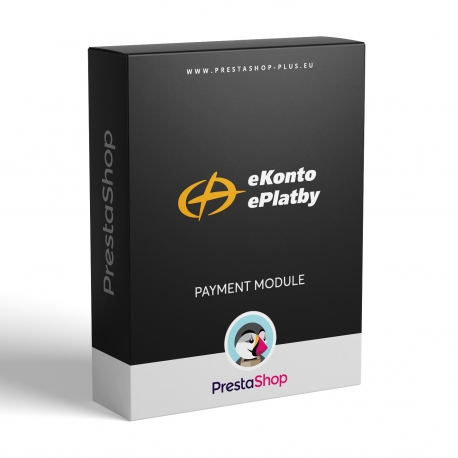 | | |
| --- | --- |
| Category | Payments & Gateways |
| Compatibility | PrestaShop 1.4.x - 1.7.x |
| Multistore support | yes |
| Translations available | english, slovak, czech |
| Installation guide | yes |
| Platform | PrestaShop e-commerce |
| Manufacturer | Caleydon s.r.o. |
This product is no longer in stock
Availability date:
Služba ePlatby umožňuje zákazníkom bezhotovostnú platbu za zakúpený tovar vo vašom eShope v prospech vášho bankového účtu. Modul zabezpečuje šifrovanú komunikáciu medzi vaším internetovým obchodom PrestaShop a webom Raiffeisenbank.
Vlastnosti modulu:
jednoduchá inštalácia
implementačný manuál súčasťou modulu
prepracované rozhranie administrácie
pohodlná a intuitívna správa nastavení
automatická implementácia ikony systému
Implementácia:
uzavrite s bankou zmluvu o prevádzkovaní služby pre už existujúci internetový obchod
nainštalujte a nastavte modul do vášho PrestaShop-u podľa priloženého manuálu
kontaktujte pracovníka banky a vyzvite ho k otestovaniu funkčnosti
ak bolo testovanie neúspešné, skontrolujte najskôr nastavenie modulu a potom nás
ak bolo testovanie úspešné, modul je pripravený k prevádzke
Zakúpenie modulu oprávňuje držiteľa licencie prevádzkovať modul na jednej doméne.
RAIFFEISENBANK EPLATBY RB MODULE - CHANGELOG

version 1.7.0 (01/10/2017)
    + initial release for PrestaShop 1.7.x (testing environment: PrestaShop 1.7.0.3)
    + front office redesign for PrestaShop 1.7 Classic theme
    + added Order payment status selectors
    + added Debugging & Testing mode
    x fixed currency check function
    x updated module documentation
    x updated "Terms and conditions of use" document

version 1.6.4 (01/10/2017)
    + added compatibility with "Advanced EU Compliance" module
    x fixed validation process when the cart currency was not PrestaShop default currency
    x minor code changes
    x moved validation script into "response" folder
    x moved "img" and "css" folder into "views" folder
    x updated module documentation
    x updated "Terms and conditions of use" document

version 1.6.3 (10/23/2016)
    x minor changes

version 1.6.2 (05/25/2015)
    + added product detail icon position and set as default
    x improved & unificated CSS to better working with 1.6.x themes
    x improved & fixed notification system
    x updated & unificated documentation

version 1.6.1 (09/16/2014)
    + module compatibility for PrestaShop 1.6.x
    + new module versioning containing a PrestaShop version
    x redesign module Back office for PrestaShop 1.6.x
    x updated and improved module Documentation

version 1.1 (06/17/2013)
    + added eplatbyrb.css to design frontend pages
    x small design improvements

version 1.0 (12/25/2012)
    + initial release for PrestaShop 1.5.x

---------------------

Legend:
    + added a new feature
    x fixed issue, updated feature
    - removed feature
Other products in the same category: (30)